The Best Apps To Teach Reading to High School Students—A Complete Review
When you consider how important reading and writing skills are, it's only natural that you want to find fun ways to teach reading and writing to your students. The good news is that you can now do that by using iPad and smartphone apps in your classroom—and your students will love it.
Your students already read on their mobile devices—think ebooks, blog posts, and text messages. They will welcome the opportunity to do the same in class. Luckily, there are many mobile apps you can use to teach your high school students different types of reading skills.
To improve the reading skills of your students, be one step ahead of them and show them they can have fun while learning. To that end, let's take a look at the best apps you can use to teach reading and increase your student's love for the written word.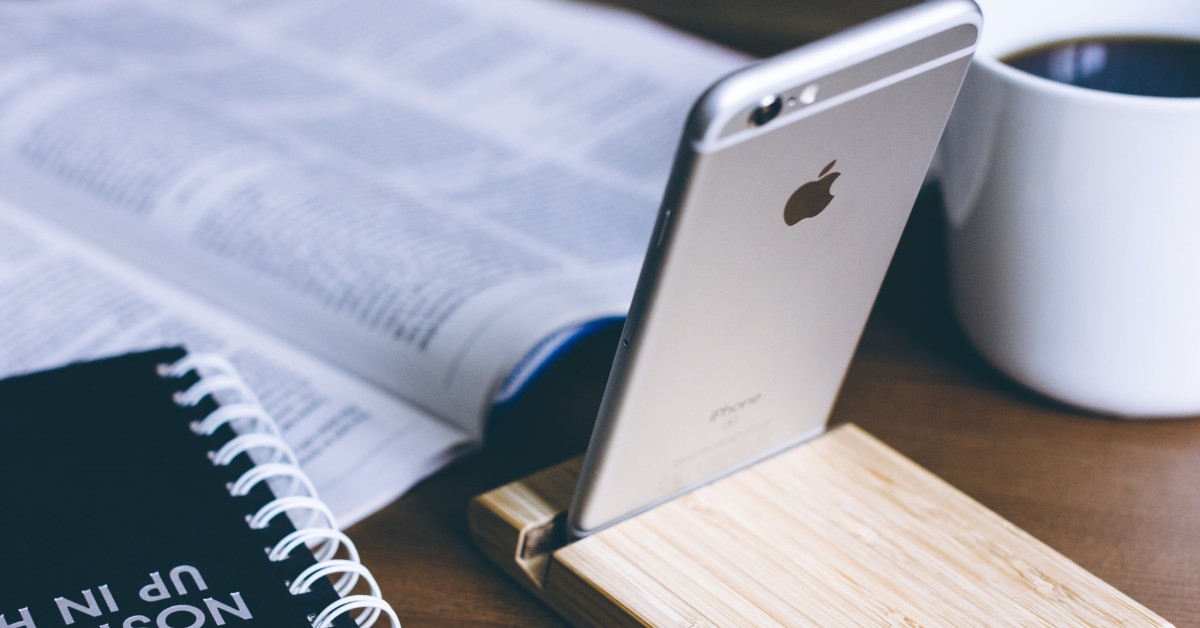 Credit: freestocks
Reviewing the Best Apps for Teaching Reading
Never underestimate the importance of technology in the classroom for improving education on the whole. Using desktop and smartphone apps for your lesson activities is only one way to utilize the latest tech trends and make your teaching more engaging and effective.
Let's review the apps that can best help you teach reading comprehension strategies to your students:
Enchanted Dictionary

ClaroPDF Pro

Reading Comprehension

DEVICE 6

Compare a Twist

Hemingway Editor

Teen & Adult Phonics Library

The Westport Independent

Audiobooks.com

WEBTOON: Comics

LongStory

Poetry — The Poetry Foundation
Enchanted Dictionary
Enchanted Dictionary 4th-6th Grade and Enchanted Dictionary 7th-12th Grade are the two apps to use if you want to level up your student's vocabulary practice.
The best feature of the app is that it categorizes vocabulary into curriculum topics. It also works as a game, so it's perfect for a fun vocabulary exercise. Here's how it works:
Create your word list or use one of the app's vocabulary categories

Hit

Play

and watch as the words unscramble

Have your students reorder the words and fit them into their definitions
This is only one way you can play around with the Enchanted Dictionary app. You can also use the app to assign homework and have your students practice sentence building by omitting and adding words into their proper places in a sentence. The app's customizable features allow you to work with any age group.
One of the downsides of Enchanted Dictionary is that it's only available on Apple's iPad.
Here's a short list of the pros and cons of the Enchanted Dictionary:
Pros
Cons

No penalties for wrong answers

Affordable

No in-app advertising

No login requirements

Only available on iPad

No punctuation at the end of sentences

No search tab
ClaroPDF Pro
ClaroPDF in the Apple App Store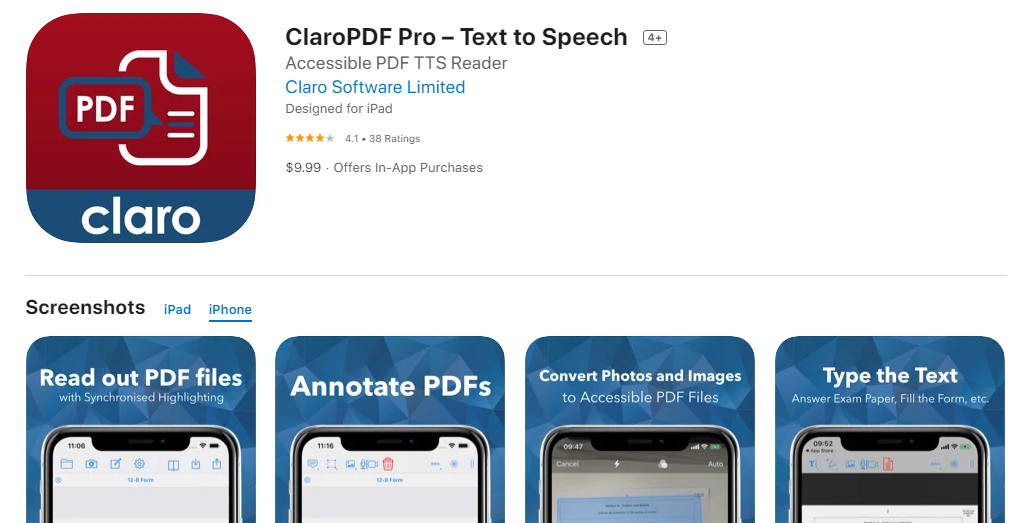 ClaroPDF Pro – Text to Speech is an excellent app to have your students do critical reading exercises electronically. It's available on iOS and Android devices, which means all your students can use it, regardless of the phone they have. What you have to know is that the Text to Speech version is only available on iOS devices (for a price that isn't quite economical), whereas the ClaroPDF version is free to use on Android.
Both versions of the app work splendidly in the classroom. Your students can:
Import any PDF file into the app

Highlight parts of the text

Leave comments

Read aloud as they listen to the audio recording of the text

Change the color of the text

Save clean or edited PDF files for future use
This way, the ClaroPDF app works not only for classroom activities but also as a tool for your students to practice reading at home and study for their exams.
Take a look at some advantages and disadvantages of ClaroPDF Pro – Text to Speech:
Pros
Cons

Supports voice-over recording

Allows the background of texts to be changed

Converts photos to PDF files

Only available on iPad

Expensive iOS version

The free ClaroPDF Android version lacks the best features of the paid iPad version
Reading Comprehension
If you are looking for an effective reading comprehension app for high school students, you can go with an app that is aimed to prepare your students for one of the English language or school admission exams, such as:
Reading Comprehension

SSAT Reading Comprehension Lite
Reading Comprehension
Reading Comprehension in the Google Play Store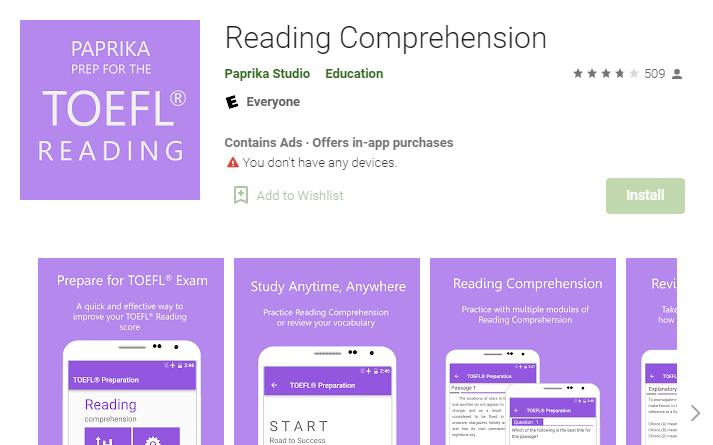 Reading Comprehension is an Android app that prepares second language learners for their TOEFL exams. Regardless, you can use it for free to test your students' vocabulary and reading comprehension levels. Your students can:
Explore the content in the app and read the texts before discussing them

Match words with their synonyms

Do comprehension exercises, like replying to the true/false or multiple-choice questions about the text
The one downside of the app is the in-app ads that can slow down the exercise and frustrate your students.
SSAT Reading Comprehension Lite
SSAT Reading Comprehension Lite in the Apple App Store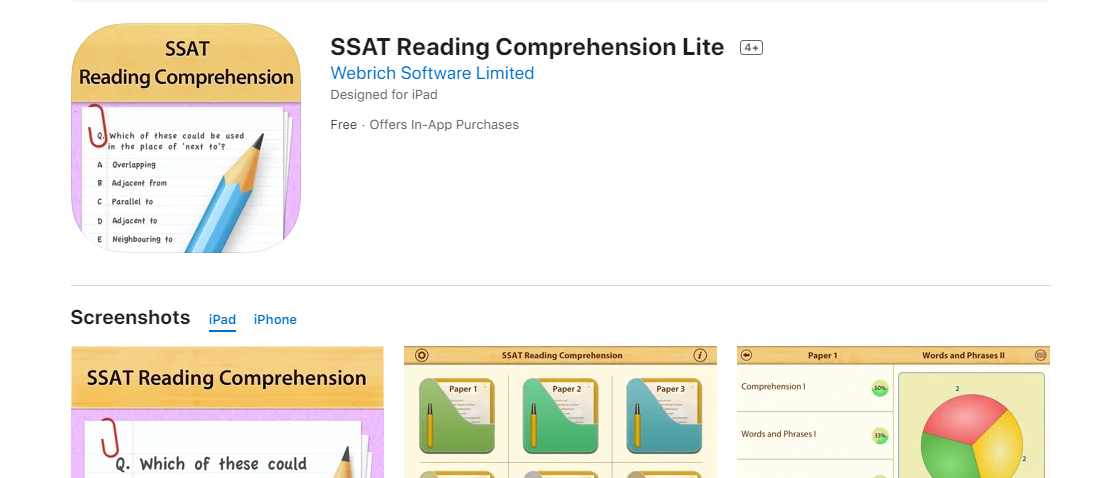 SSAT Reading Comprehension Lite is a free iOS version of the same paid app. The only relevant difference between the two is that the paid version won't bug your students with the in-app ads. Since the app prepares students for the SSAT, it's best for students in grades nine through 11.
SSAT Reading Comprehension has a user-friendly interface and numerous engaging reading exercises, including:
Spelling correction

Graph analysis

Mock tests

Grammar exercises
Other useful features of the app are that texts are categorized into individual topics and that there is a detailed explanation for each question and answer. The features make the app perfect for assigning homework and teaching your students about the importance of autonomous learning.
If you can't pick between the two apps, here are the best characteristics of both:
Best Features
Reading Comprehension
SSAT Reading Comprehension Lite

Exercises are divided into parts to test vocabulary or reading comprehension separately

Ability to jump right to the simulation test

Option to review vocabulary inside the app

Mock tests

Detailed analysis of test results

Explanation of every question
DEVICE 6
DEVICE 6 in the Apple App Store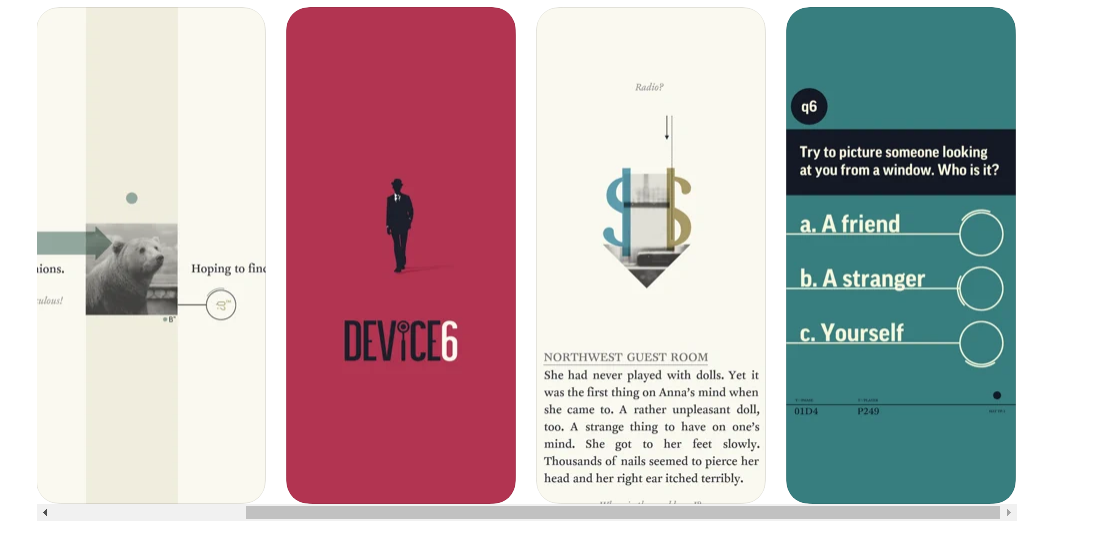 If you want your students to enjoy themselves while exercising critical reading, you must use DEVICE 6 in your classroom. Winner of multiple app awards, DEVICE 6 works as a game, allowing your students to:
Read the story about the protagonist Anna by swiping their screens left

Uncover clues about what happened to the protagonist through the clips and images that pop up

Solve puzzles about the plot by using the app's interactive button features

Return to the passages as they solve one mystery after another

Discuss the prose in class, which is one of the game's most highly praised elements
Several advantages of DEVICE 6 are the:
Interactive storytelling

Rich suspense comparable with some of the best thriller fiction

Engaging interface
If you're looking to have your students immersed in the text, scratching their heads about the plot, and practice challenging problem-solving skills while reading, DEVICE 6 is a must.
Here's more information about the app:
| | |
| --- | --- |
| DEVICE 6 | Information |
| Developer | Simogo |
| Available on | iOS |
| Age range | 12+ |
Compare a Twist
Another iPad app, Compare a Twist is an educational tool for teaching a specific reading skill—comparing and contrasting. If your classroom is equipped with tablets for your students to use, you must try the Compare a Twist app out. You can use the six built-in lessons or create your own by importing files into the app.
The lessons that are embedded in the app are divided into school subjects, such as Arts or Social Sciences. You can personalize the interface to make the app your own. You can also import any number of images into the app to let your students compare and contrast any item, person, or phenomena you want.
You can teach any lesson and use both text and images in the Compare a Twist app. If you are intrigued, take a look at some noteworthy information about it:
| | |
| --- | --- |
| Compare a Twist | Information |
| Developer | App of Approval |
| Available on | iPad |
| Age range | K-12 |
Hemingway Editor
Hemingway Editor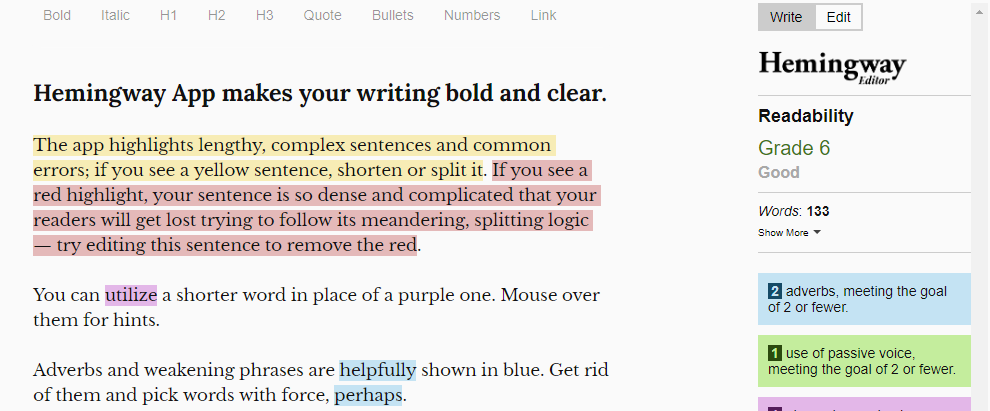 The only desktop app on the list, Hemingway Editor is the tool that helps anyone improve their writing. Granted, the app is designed to help edit an existing text, but that only makes it the perfect tool to teach your students reading and writing skills simultaneously.
If you want to combine reading and writing in your exercise, have your students edit their peers' work in the app. As they go through different papers, your students will read, practice editing, and notice different writing strategies their peers employed.
The Hemingway Editor will teach your students to watch out for:
Unnecessary adverbs

Overuse of the passive voice

Long, hard-to-read sentences
The desktop app isn't perfect, though. Check out some of its best and worst characteristics:
Pros
Cons

Easy to use

Separate write and edit modes

Color-coded writing elements

Unavailable as a mobile app

No feedback inside the web app

Can't work offline
Teen & Adult Phonics Library
Teen & Adult Phonics Library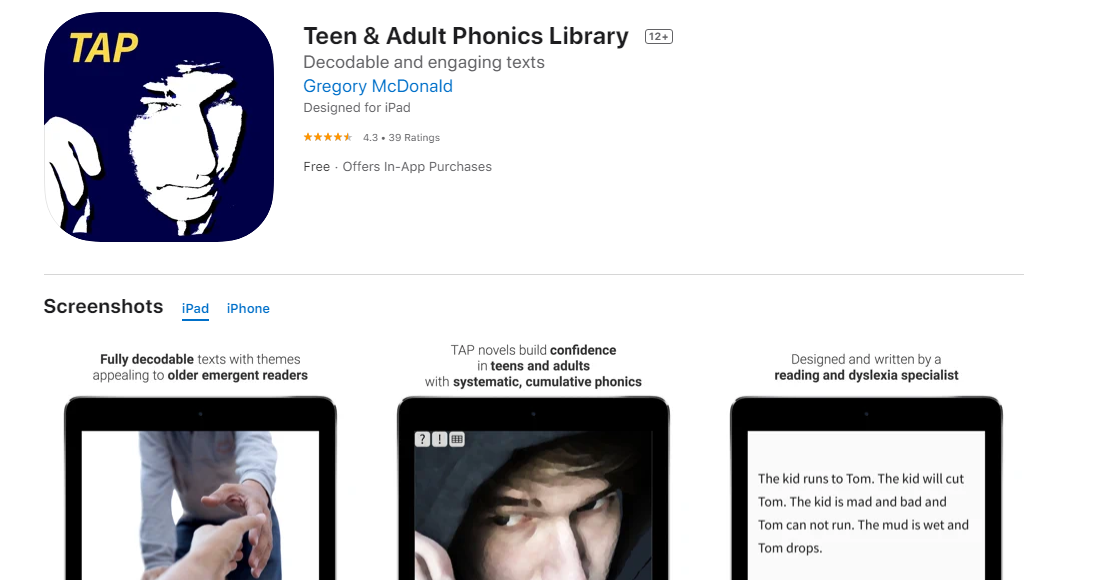 Made specifically for students with dyslexia and other reading disabilities, the Teen & Adult Phonics (TAP) Library is a neat app you can use both on iOS and Android.
The app and the stories within it are designed to appeal to adolescents and adults who struggle with reading. There are no childish graphics that make students with reading disabilities feel like you are giving them a task that is below their level of proficiency. The stories also revolve around mature themes, but you will find nothing that would make you wary of using the app for your high school students in the upper grades.
If you purchase the TAP Library School Edition, you'll have access to all the stories in the app, as well as the teaching materials. If you opt for the basic version of the app, you can buy each story as an in-app purchase.
Here are some more app specifications:
| | |
| --- | --- |
| Teen & Adult Phonics (TAP) Library | Information |
| Developer | Greg McDonald |
| Available on | |
| Age | 12+ |
The Westport Independent
The Westport Independent in the Apple App Store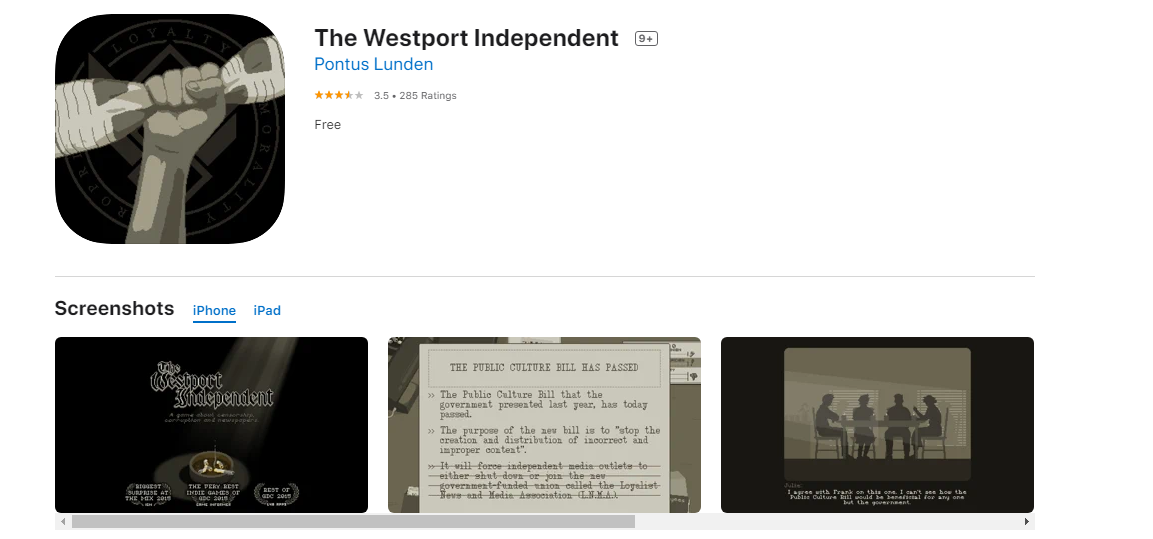 The Westport Independent is a great way for your students to practice writing and reading comprehension, learn how the media shapes public opinion, and gain knowledge on how political parties work.
The app works as a game in which your students play a character who is a newspaper editor. They have to edit or remove the existing newspaper content and add some new. The texts that your students write and 'print' in the newspapers will influence other character's actions and change the direction of the plot. This makes the app engaging for high school students. At the same time, they are playing the game and practicing reading and writing.
Here's more on the Westport Independent app:
| | |
| --- | --- |
| The Westport Independent | Information |
| Developer | Double Zero One Zero |
| Available on | |
| Age range | 12+ |
Audiobooks.com
Audiobooks.com in the Apple App Store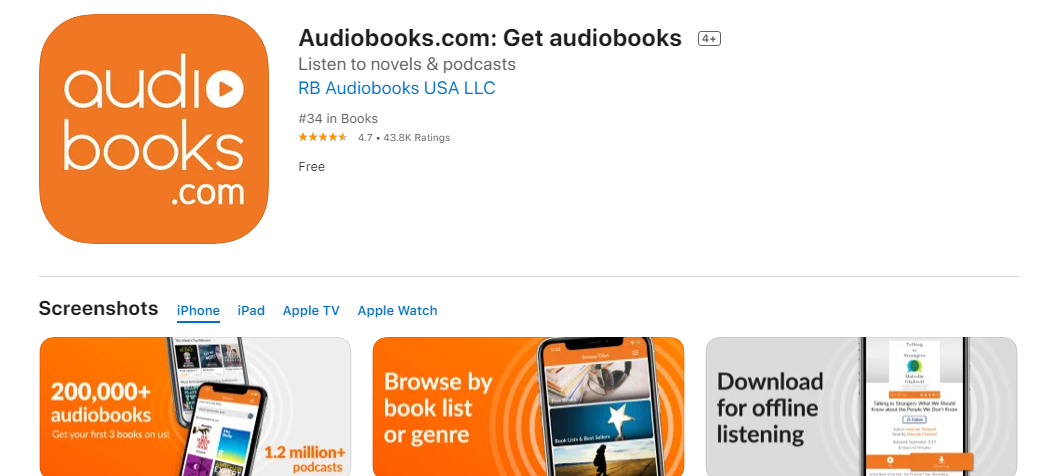 Audiobooks.com is only one out of many audiobook apps you can teach your students to use. They can install the app for free on both their iOS and Android devices. All the classic works of literature that belong to the public domain are free in the app. This makes it a perfect tool to instill reading as a hobby in your students.
Show your students how they can multitask and complete the novel they're doing for school while they are jogging, cleaning their room, or taking a walk.
The app is particularly useful when you want your students to listen to a text before they read it. For example, let's say you are doing a Shakespeare sonnet in your English class. Your students can listen to the sonnet in the app before reading the verses themselves. That way, they can discuss the themes before doing a deeper analysis of the poem. It also allows you to determine whether your students can focus on the text better when they listen to it instead of reading it.
If you're not sure whether Audiobooks.com is the tool to use in your lessons, take a look at some of the app's upsides and downsides: 
Pros
Cons

Critical listening skills exercises

The free version you can use forever

All public domain classics available for free

Memberships aren't easy to cancel

More podcast options than audiobooks

Unused credits expire quickly
WEBTOON: Comics
WEBTOON: Comics in the Apple App Store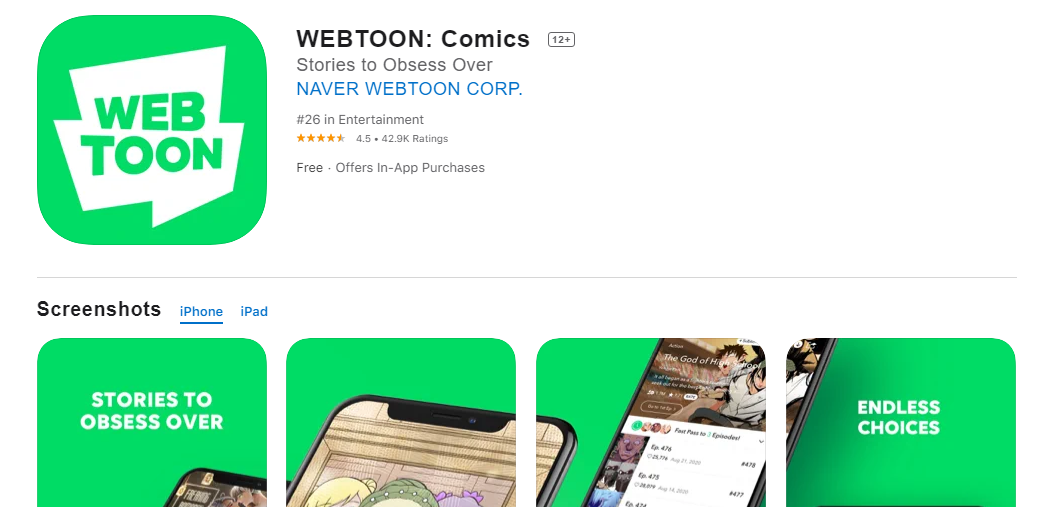 The WEBTOON: Comics app is a great choice if you want your students to fall in love with comics and practice reading comprehension skills at the same time. The app is available on iOS and Android devices for free, but there are in-app advertisements.
Since any user can submit their stories to WEBTOON, it would be best to determine the stories your students will read before class. The app is mainly targeted at adolescents and can inspire the love of reading in them. Your students can enjoy stories from a wide variety of genres, discuss them in class, and leave comments for story creators in the app.
Here's an overview of WEBTOON:
| | |
| --- | --- |
| WEBTOON | Information |
| Developer | NAVER WEBTOON |
| Available on | |
| Age range | 12+ |
LongStory
LongStory in the Apple App Store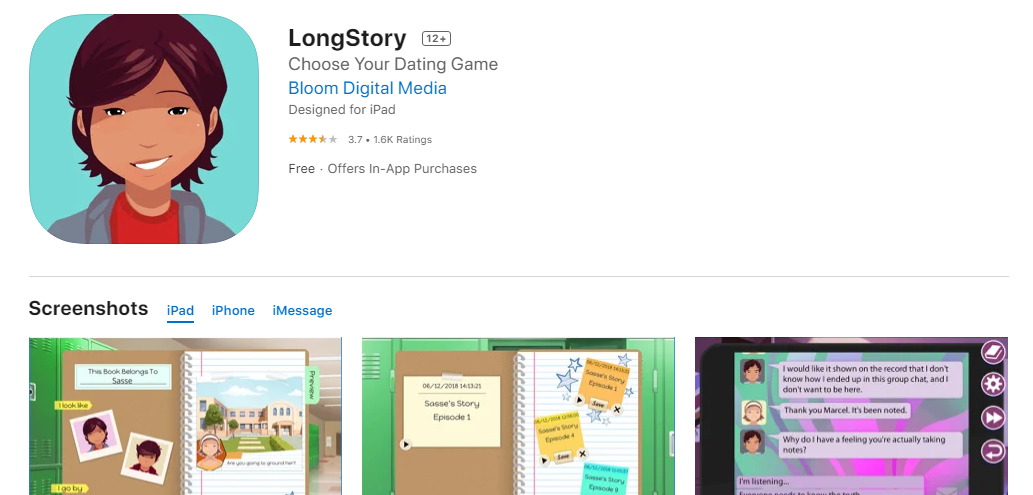 A safe school environment is an all-inclusive school environment that doesn't discriminate against students based on their gender, ethnicity, or sexual orientation. One way to make your lessons more gender-inclusive is to use the LongStory app in your classroom.
The app is an interactive, create-your-own-experience game that allows your students to:
Invent their character and use any pronoun for themselves

Interact with other characters through chat

Solve puzzles

Find their character's true love while in high school
The LongStory app is praised for its successful handling of important themes, such as gender identity and learning disabilities. It also boasts unique storytelling that is in line with what adolescents go through in their real lives, making it relatable to high school students.
Take a look at the basic information about LongStory:
| | |
| --- | --- |
| LongStory | Information |
| Developer | Bloom Digital |
| Available on | |
| Age range | 12+ |
POETRY—The Poetry Foundation
POETRY—The Poetry Foundation in the Apple App Store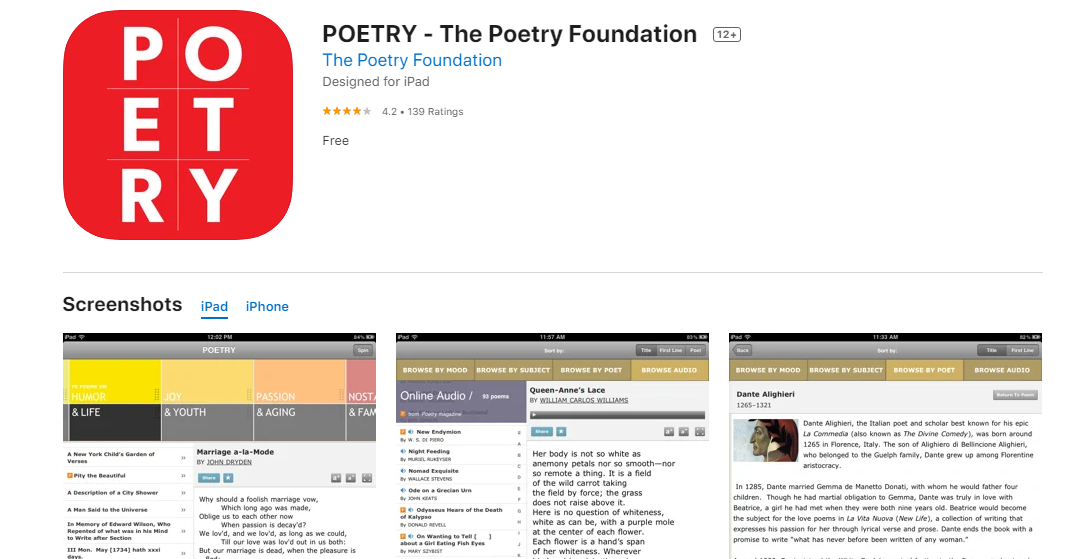 If you want to introduce fun poetry reading strategies to your students, go with the POETRY—The Poetry Foundation app. Your students can install it for free whether they're using an iOS or Android mobile device.
Instead of reading the works of one poet or examining only one poetry movement—as in a poetry book—your students read poetry by browsing different moods and themes. They can select specific ones or use the app's Spin feature, which will choose random moods and themes for them. 
This can be a useful tool for a classroom poetry reading practice. Your students can discover new poems by allowing the app to select the ones they'll read. A pair of students can work on different themes and moods and compare the poems they read.
The Poetry Foundation app isn't without faults. Let's take a look at its best and worst characteristics:
Pros
Cons

Free

Makes poetry fun

A combination of classic and contemporary poetry

A limited number of poems

No external links for your students to find out more about the poems

Outdated interface
Have You Used Apps To Teach Reading Before?
One of the easiest ways to introduce some innovations in schools is to use technology in the classroom. It can help you equip your students for their futures properly and also make learning more fun and enjoyable for your pupils. 
In case you have already used apps for your lessons, we'd like to hear which ones. Write to us, and let us know how your experience with getting your students to learn through apps was. We'll share your views with our readers by publishing your text on our blog.
Let's get the conversation going and the ideas flowing!